THE ANCIENT GREEKS – YOUNG HEROES PROJECT BRINGS ANCIENT GREEK TO PRIMARY SCHOOLS
In the United States and the UK, Latin and Greek have been successfully taught in primary education for many years, especially to pupils from disadvantaged backgrounds, with the aim of improving pupils' linguistic skills in English, as well as their self-confidence and intellectual aspirations.
The Department of Greek at Ghent University has started a similar project in order to introduce pupils from primary schools in Flanders to the Ancient Greek language. For this innovative concept, the project coordinator, Dr. Evelien Bracke, became laureate of the Annual Science Communication Prizes of the Royal Flemish Academy of Belgium for Sciences and Arts in October 2020. In this Dutch-medium video she explains the concept briefly.
Concept
The teaching materials on this website are made by students doing the teacher training program at Ghent University, for primary school pupils as well as the first grade (ages 11-14) of secondary education. Our classes consist of a mix of storytelling, activities, and games. The aim of each lesson is to strengthen pupils' linguistic and academic self-confidence. We use an adapted didactic approach to this end.
Teachers can use our teaching materials as a course on its own or as a supplement to an existing text book. Since we started the project, several secondary schools have also started working with our teaching materials to reach 11-14yr old pupils who do not study Latin, as well as those taking technical subjects. The teaching materials can therefore be adapted to suit different age groups.
Take part
Our teaching materials are available free of charge for anyone who would like to learn more about Ancient Greek culture and language, but remain the intellectual property of the Greek Department at Ghent University. Please consider the Creative Commons License which applies to all materials: you can use and adapt the teaching materials, but 1) Ancient Greeks – Young heroes must be mentioned as your source, 2) you use the same CCL as we do for the adapted teaching materials, and 3) the materials may not be us for commercial purposes.
If your school would like to make a financial contribution, you can do so on the account number of the UGhent University Fund: BE26 3900 9658 0329 (BIC: BBRUBEBB), mentioning Greek Outreach. Every contribution goes to our outreach activities.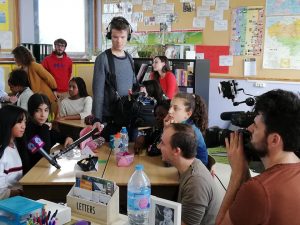 More information
You can view images of classes taught by the students and read more about academic and newspaper articles.
If you have any questions about any aspect of the project, feel free to contact us. We are happy to help!
Enjoy your introduction to ancient Greek!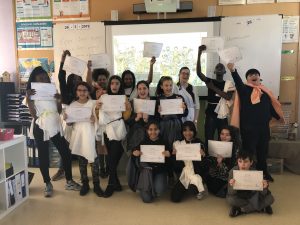 dr. Evelien Bracke – project coordinator
Prof. dr. Katja De Herdt and Katrien Vanacker – Teacher Training Specialists

This work is is covered by Creative Commons Attribution-NonCommercial-ShareAlike 4.0 International-license.